FLANAGAN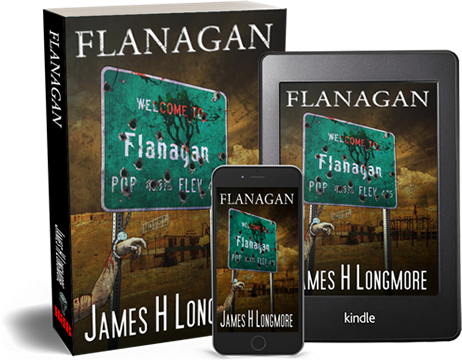 From the author of 'Pede and Tenebrion
"Straw Dogs meets Fifty Shades - heart pounding, gut-wrenching, sexy as all hell and with a twist you'll never see coming!"
Meet the Sewells, your typical, all-American couple; happily married for ten years, respected high school teachers, still crazy about one another and with a secret, shared dark side.
During their annual Spring Break vacation to recharge their batteries and reconnect as a couple, they are waylaid by a perverse gang of misfits in the one horse, North Texas town of Flanagan.
Taken hostage as the focus of the gang's twisted games, the Sewells are brutalized into performing increasingly vicious physical, sexual and emotional acts upon one another, until events take an unexpected turn - triggered by an unintentional death.
As their circumstance descends into the worse nightmare imaginable, the Sewells find themselves involved in an altogether different situation...
What They're Saying About Flanagan...
"More Than Shock!
A married, all-Americana couple going though the trials and tribulations of our fantasy-based culture, head out on a sexcation and are taken hostage for the enjoyment of torment that pushes the antagonists, a kind of special torment that can only be seen in such people with a special kind of psychopathic tendency...those who might seek red rooms and/or gore sites through the use of Tor, when not creating the content themselves.
With a twist that pops, allowing the reader to feel that reinvigoration felt upon the first words on the first page, the story builds more upon reader's investment in the novel.
While many who write extreme horror write purely to shock the reader, they lack the proper aspects of storytelling and create shock for shock sake, and fail as an author telling a story.
In Flanagan we see that the author is not out to cause a gasp at a graphic scene solely for the sake of shock value, but rather issue the physical and psychological with reason and with merit. This fast-paced novel by James H. Longmore will be a welcome companion with those who enjoy the intensity of extremes and sexualities of Wrath James White, Edward Lee, and Jack Ketchum. Flanagan by James H. Longmore is a graphic page-turner written for those of us who enjoy merited fictional violence, and is a success not only as an extreme horror novel, but as a novel. ​"
Release: May 18 2018
Pages: 320
Available in Audiobook here: Audible, Amazon, iTunes
CLICK ON THE FOLLOWING AMAZON UNIVERSAL LINK FOR PAPERBACK, EBOOK, KINDLE UNLIMITED, AND AUDIBLE FORMATS IN YOUR COUNTRY'S MARKETPLACE: mybook.to/flanagan